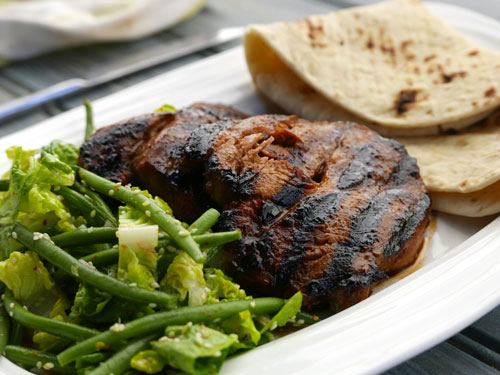 Serves 3
Ingredients
6 x 150g thin cut pork neck fillet steaks
60ml rice wine
60ml soy
25mm ginger, grated
4 cloves garlic
2 birds eye chillies
7g 5 spice
100g grated palm sugar
50ml veg oil
For the salad
250g blanched green beans
1 cos lettuce
For the dressing
40g toasted sesame seeds
1 finely diced shallot
25mm grated ginger
15ml soy
15ml sesame oil
15ml rice vinegar
10g sugar
5g chilli flakes
Method
1. For the marinade, blend til smooth, add the pork, cover well, leave for at least 2 hours but overnight is better.
2. Heat a griddle pan and chargrill the pork (shake off excess marinade, for 4 minutes each side.)
3. For the salad, make the dressing by mixing the ingredients together. Shred the lettuce into 20mm wide strips (don't use outer leaves). Toss the beans and lettuce in the dressing.
4. Serve with flat bread.
Credit – http://www.channel4.com/programmes/sunday-brunch/articles/latest-recipes/korean-pork-with-green-bean-salad-recipe