Available for hire - Skyeladder are a five piece band located in Lancashire UK playing original Indie, Rock, Americana. //Music// W - http://www.skyeladder.net/ F - https://www.facebook.com/skyeladdermusic S - https://soundcloud.com/skye-ladder T - https://twitter.com/skyeladder YT - https://www.youtube.com/channel/UCpFv3YxkV7PT9yqGxLWGIxw I – https://www.instagram.com/skyeladder/ R - https://www.reverbnation.com/skyeladder Band Publicity Page - https://soundcloud.com/skyeladder-publicity-page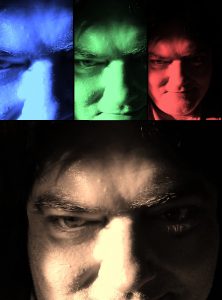 So Cycle 8 of the twice weekly intensive Chemotherapy is now complete for hubster.   So glad this is his last cycle hes so fed up and needs a break.  Problem is that on the 3rd of July he starts the prep and consent for the Stem Cell Transplant doh!.
Unfortunately Paul's still having his twice daily Clexane injections ( anti-coagulant replacing his Warfarin for the moment) which are leaving unbelievable bruises  – look at this devil.
3rd July 2018
So rolling forward to the 3rd of July, we met with the Hematologist at Manchester Royal , a really charming and funny chap.  The day was basically taking a measure of Pauls weight, yet more bloods, a run through of the forms, sign your life away and what happens during Stem Cell.  All very straight forward. The first part of the Stem Cell Transplant process is basically checking that you are fit enough. So you'll have a series of tests to check before proceeding with the SCT and onto the next stage which is the harvesting stage.
https://www.nhs.uk/conditions/stem-cell-transplant/what-happens/#tests
1 – 01/07 – CT Scan
2 – 10/07 – Lung Function Test
3 – 12/07 – Bone Marrow Test
4 – ECG Test
5 – Harvesting prep – 13/07  – GCSF Injections ( note you need to keep them cool in the fridge) are to be given to hubby ( Paul) into his soft skin to encourage/stimulate the stem cells to go into his blood stream from his bone marrow).  So that's me playing nursey again  – "Sorry Paul , Sharp scratch lol"
https://www.macmillan.org.uk/information-and-support/treating/supportive-and-other-treatments/supportive-therapies/g-csf.html
I wonder if they picked Friday the 13th deliberately?
6 – 16/07 – Bloods and consultation review
7 – 17/07 – 18/07 – Harvesting the Stem Cells at Manchester Royal
8 – Conditioning ( basically an intensive blast of chemo  – say goodbye to your hair – sorry)
9 – Stem Cell transplant and a few weeks stay in hospital.
Lung Function Test – July 10th 2018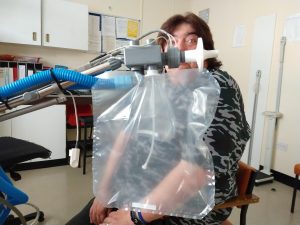 This was a strange test , seems they are testing to see how strong you are by making you breath into a bag that's attached to a machine. Paul had to blow into the blue pipe that has the bag attached to it , short and long spurts of pushing air out of your lungs. The machine then very cleverly works out your lung function capacity.
Its Bone Marrow test day – July 12th 2018
Well its been a funny old day today . Hubby Paul my lovely unlucky chappie is the one with the Multiple Myeloma ( Cancer) , he had his bone marrow test today in prep for his Stem Cell transplant. He's having the cell extraction next Tuesday and Wednesday at Manchester Royal. They tried to get his bone marrow via his hip to extra the bone marrow cells but couldn't do , it just wouldn't go in (he must have bones as solid as granite eh?) , so the doc went in via his chest. So here's what they do they swab the area of where they are going to extract the bone marrow.  In hubbies case his chest, then they inject a local anesthetic.  Then lastly certainly from what I saw they use what looks like a tube with a needle on the end but its a different type of needle to the usual injection ones. They remove a sample of bone marrow cells or an area of bone marrow in one piece. Here's a link to the procedure if you want to see the graphic details https://www.cancerresearchuk.org/about-cancer/cancer-in-general/tests/bone-marrow-test.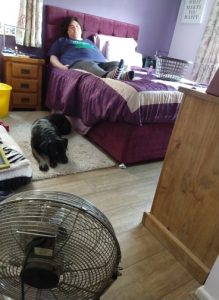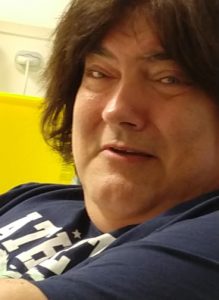 I stayed in the room during the procedure, moral support and all that. Hubby screamed, I've never heard him scream before it wasn't good. I brought him home about 10:30am from hospital and hes been in bed asleep since. Only waking for lunch and drinks. Feeling very sad, lonely and pretty useless today as theres not much I can do for him apart from food, drinks and checking on him.
Pups on guard, well looking at her maybe shes guarding the fan as its super warm who knows.
So thats it, next week we have the pleasure of attending hospital three days in one week and the harvesting starts.  Oh joy bring on the Harvest Festival. !!!!!!