Hubby came home from hospital just under a couple of weeks ago thank goodness :0 ). As you know hes got Multiple Myeloma which is a cancer of the plasma cells. ( also known as plasma cell myeloma, is a cancer of plasma cells, a type of white blood cell normally responsible for producing antibodies.)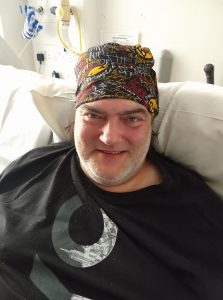 I must admit its very hard, and life is a struggle.  My hubbys just had a major procedure a Stem cell transplant due to his Multiple Myeloma ( Cancer).  After the transplant he managed to contract  mucositis which effects the mouth so no voice, painful to swallow and was hardly able to eat anything.  He also had septis and an infection in his pic line so they have removed it and hes on antibiotics. Hes had lots of plasma and blood cells pumped into him. When he was in hospital I was driving 1 hour and 20 mins to get to see him each trip so that was 2.5 hours at least travel to the hospital each day.

Plus also working full time, maintaining the house and garden and looking after the pup.  Just seeing how poorly hubby was and trying to remain upbeat and smiley for him was very difficult. The drive home from hospital was my quiet reflecting time and that time apart from driving was mostly spent crying about us both and basically feeling sad re our situation and being a complete softy.
Hes out of hospital now but its still difficult as we have the weekly hospital trips initially it was every couple of days. I'm still working full time, doing the house/garden and of course looking after my dear hubby. But I don't begrudge the situation I'm more thankful to be honest as hes still here with me,
I still have my love my soulmate and I consider myself and us very lucky.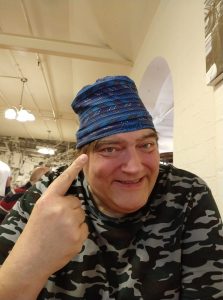 Hubby Pauls , recovering well though and I am seeing improvements each day.  Hes loosing his hair bless him hence the funky Buff headwear, but I really hope that soon we'll know if the SCT worked and if he is in remission or not. 
We got out for a spot of lunch yesterday although it totally exhausted him and he had to go back to bed, at least we got out.  Sometimes a chance of scene is as good as a rest they say and yes I think they are right.  So onwards and upwards for us just moi, my gorgeous man and our super beautiful and loyal pup Suzie Q…….