Wish Paul luck everybody he's currently having his stem cells harvested at Manchester Royal over the next two days. Hes been sick and dizzy today, but he seems a little better now that hes been given an anti sickness drug.
Well Day 1,& Day 2 done then driving home day 2 and we get a call from the hospital note we're about 15 minutes from.  Sorry but hes not produced enough Stem Cells they say, so can you drive back to collect more injections and then come back in for 8:30am tomorrow so we can harvest some more. Needless to say we're exhausted by this point anyway and I was internally pissed off :0).  So we decided to drive home, let Suzie Pup out and had a cuppa before driving back.
Getting back to the hospital was a pain, lots of people around out on the lash ( drinkie poo resulting in drunkness) lol, they seem to forget that roads aren't pavements.  I got annoyed as we got lost and swore alot ( sorry) but told myself to calm down as I didn't want Paul upset any further.  So finally we get to the hospital up to Ward 44 we go Manchester Royal collect the injections and I said can I use a room so we can do the injections. Pointed to the relatives room, gave Paul his injections and a nurse turns up saying I'm here to give the injections.  I turned around and said I've done them didn't realise they where going to give them .  She said oh did you know how to do it , I was like yep  no issue I've been injecting Paul twice daily for the last 7 months with Clexane anyway.
So its now Friday and hes totally exhausted unsurprisingly,  we have a gig on Saturday at Yewstock ( somehow we will get through it) . Back to hospital Tuesday for consent for the transplant and then the actual transplant and full blast chemo/stay in hospital on the 31st of July.
Oh what a week hey.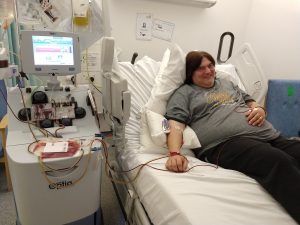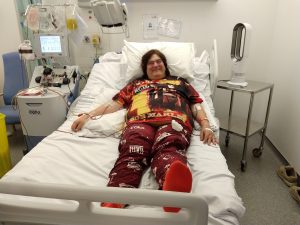 I've also started a fund raiser here for Paul to help with some time away after the transplant to recover and also help with travel expenses to the hospital and back. It would be great if you can share the link and even greater if you could contribute.  Thankyou in advance. https://www.gofundme.com/holiday-for-cancer-sufferer