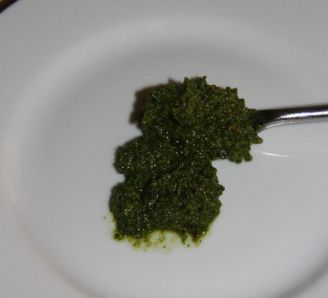 Pesto is a delicious and very flavoursome alternative to pine nut pesto. Good with pasta, fish or in a panini.
Ingredients
Two large bunches of fresh coriander
Extra virgin olive oil
Juice of one lemon (I used a lime too this time)
Pine nuts (I used a few cashews this time too.
Fresh garlic. (to taste)
Method
All ingredients blitzed together in a food processor, blender or using a pestle and mortar. I just cut most of the coriander in, including large bits of stalk, and only leave around two inches of stalk from a bunch. I like to make this quite fluid.